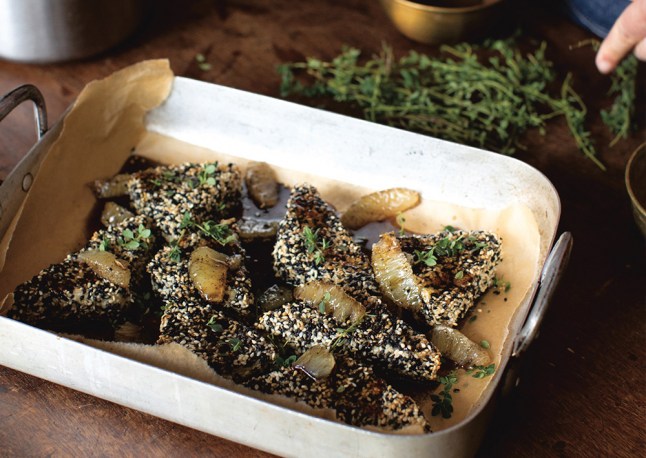 Party Catering in Sussex
We've had an incredible summer with our first Field Food Feast and lots of party catering in Sussex. There's been birthday parties, anniversaries, and family celebrations. We've had the pleasure of catering for parties that were postponed during the pandemic and there's been an even greater feeling of joy and celebration at these gatherings.
There's been an abundance of delicious local produce available to us over the past couple of months; mountains of blackberries and plums, crates full of tomatoes and cucumbers, and more runner beans and courgettes than we know what to do with. I've loved using this incredible produce when it's at its absolute peak of flavour and texture – and working with local producers has meant that we often receive it the same day that it's been picked.
Our summer salads sharing menu has been really popular: Ottolenghi's tomato salad with a ginger and garlic infused oil dressing; chargrilled tomatoes, peppers, and chilies with contrasting cool, crunchy cucumbers; green herb cannellini beans with a tahini and toasted pitta topping; and sesame-crusted feta.
The feta dish is simple yet very delicious and also looks really good on a big platter with the sticky lemon and dried-lime sauce drizzled over. Simply cut the block of feta into quarters diagonally, then coat in rice flour, followed by beaten egg, and finally in a mix of black and white sesame seeds – making sure they are completely coated. Transfer to a lined baking tray and chill in the fridge for 30 minutes. Preheat an oven to 240C and bake the feta from chilled for 18 minutes – flipping over halfway through. The full recipe is here, along with the lemon sauce. Bonus points for making this recipe with High Weald Dairy feta – the texture is so much nicer than supermarket feta.
If you are interested in hiring us for party catering in Sussex then you can find out more about what we offer here.
Photo credit: Ottolenghi.